Water Damages Risks as Time Passes
2/8/2022 (Permalink)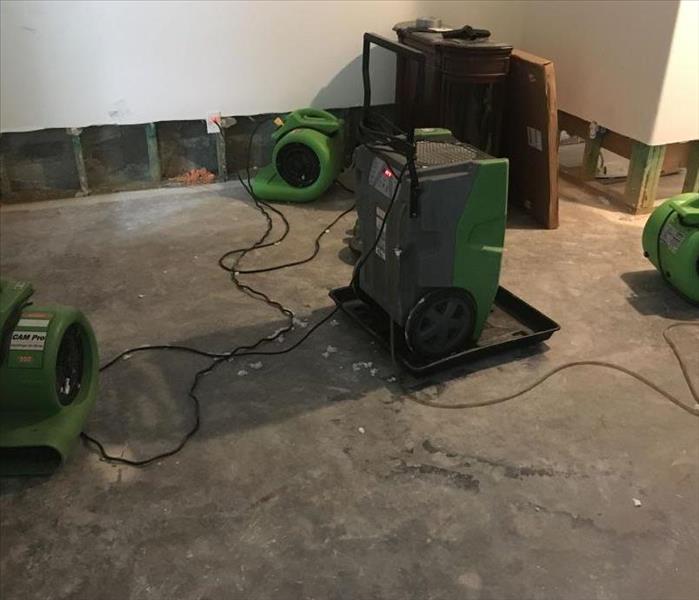 Bright green, professional drying equipment. Let SERVPRO of South Charlotte help with your water loss. Please don't wait, call us today, 704-333-7737.
Here's what happens over the life span of a water damage. It truly is best to have us out in 24 hours or less.
Minutes
Water is fast to spread through your home or business. Water travels to places you'd never imagine.
Water is absorbed into building materials and your contents.
Furniture on wet carpeting could cause staining.
Hours 1 - 24:
Drywall can swell and starts to break down.
Metal can begin to tarnish.
Furniture can begin to swell, crack, split or disintegrate.
A musty odor can begin occurring.
48 Hours to 1 Week:
Mold may start to grow.
Building materials, such as doors, windows and wood, can get swollen and warped.
Furniture could start showing signs of mold.
Wall finishes could start to blister and peel.
Hardwood flooring can start cupping, buckling, warping.
Even a standard, clean water loss turns into a biohazard type loss after a few days.
SERVPRO of South Charlotte has been specializing in cleanup and restoration for over 20 years. Our staff have many different certifications in restoration work. You can trust us to dry and restore your property. Please call SERVPRO of South Charlotte at 704-333-7737.